Current I Tatti appointees and other Harvard faculty, students and staff with an active Harvard University ID (HUID) may request materials that are not owned by the Berenson Library either through Interlibrary Loan (ILL) or the Scan & Deliver service. Procedures for each differ.
For Interlibrary Loan requests from other libraries for Berenson Library materials, please click here.
Articles in journals and chapters in books owned by Harvard Library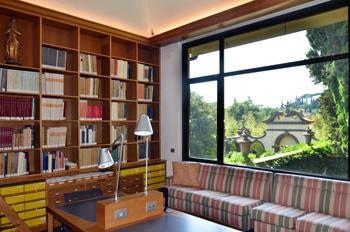 Patrons with an HUID may request these items through Scan & Deliver, Harvard Library's free electronic document delivery service that makes available over ten million items from participating libraries. Scans are delivered to your email address, usually within four business days. If the journal article or book chapter you need is unavailable at Harvard, it may be requested electronically via Interlibrary Loan. To submit an S&D or ILL request for scans of articles or chapters in books, click on the Scan & Deliver button next to the desired item on a record in either of the HOLLIS catalogs, and fill out the online form. Note that you will be prompted for your Harvard ID and PIN numbers.
Books and other materials 
If the desired item is within the scope of the Berenson Library's collections, instead of requesting it via ILL, place a purchase request using this form. If the request is approved, the library staff will make every effort to acquire the item.
If an item is outside the library's collecting profile or unavailable for purchase or electronic scan, it may be appropriate to submit a request for the physical volume to be sent via ILL. Such requests are fulfilled principally by Harvard Library plus a limited number of other institutions. Requests for books or other materials are handled only by the librarian at the Public Services / Reference Desk and may not be placed through HOLLIS or the ILL Requests form.