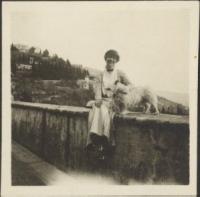 A visit to the Uffizi, Léon Bakst arbiter elegantiarium and music at I Tatti



Saturday, May 6
Went to Uffizi with the party. Alice Garrett1 is almost too stupid. But she is nice too.
Yoï2 and Nello3 came up to lunch, and we had a great show of Alice's dresses afterwards. She has some pretty ones. Bakst4 superintended and gave interesting criticisms.
The Actons5, Lady Enniskillen, Countess d'Ossay, Countess Robilant6 and the Marchese Antinori came to tea. Quite meaningless.
We had a dull dinner at Sybil Cutting7, but Miss de Robeck8 played splendidly, and also Teresa, with whom Bakst fell more in love. He wants to paint her.
...
-----------------------------------------------------------------------------------------------------
1 The patron Alice Warder Garrett (1877-1952), acquainted with many of the leading artists of the time including Ignacio Zuloaga, Leon Bakst, Edith Wharton, Ezra Pound, Marcel Proust, and Frank Lloyd Wright.
2 Yoï Crosse (1877-1944), English writer, with the pen-name Yoï Pawlowska. She was born in Hungary. Her second husband was the Italian sculptor Antonio Maraini; they had two sons, Fosco and Grato.
3 Nickname for Antonio Maraini, Italian sculptor (1886-1963).
4 Léon Bakst, Russian painter, scene and costume designer (1866-1924), was a member of the Sergei Diaghilev circle and the Ballets Russes.   
5  Arthur Mario (1879-1952) English art collector; father of Harold Mario Acton, and his wife.
6 Robilant, Valentine di, born Princess Windischgraetz, wife of Edmondo.
7 Lady Sybil Marjorie Lubbock (née Cuffe) (1879-1943), Former wife of William Cutting Jr and of Geoffrey Scott, and later wife of Percy Lubbock; daughter of 5th Earl of Desart. Mother of Iris Origo, after her first marriage she lived at Villa Medici, Fiesole.
8 Nesta Mary Emily Fock  De Robeck was born on 1886. She lived in Assisi, Italy, and was the author of several books on Italian life and saints.