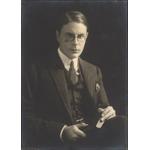 Pitti, Léon Bakst,a guest from Harvard, and Ibsen's Doll's House



Wednesday, May 10
They went just after lunch. B.B. having taken Alice Garrett1 to the Pitti and 'taught her to see with his eyes.'
Léon Bakst2 finished a second sketch of Teresa3 before going.
A Mr. George Plaisted, Harvard Art scholar came - awful accent, seemed not like a gentleman, but intelligent and rather nice. Would love to go and fight the Germans.
Took Geoffrey Scott4, Teresa Hulton and her mother to call on Mr. Mitchell and see his roses. I liked him a little.
Geoffrey went to the theatre with Teresa and the Sfornis5 to see Ibsen's Doll's House, which we used to thrill over 31 years ago.
Mary Nunis, G. B. Shaw6 , the Webbs7, the Codben Sandersons8  and all of us. It is a good acting play still but the theme seemed vieux jeu.
The Dumonts5 dined here
...
-----------------------------------------------------------------------------------------------------
1 The patron Alice Warder Garrett (1877-1952), acquainted with many of the leading artists of the time including Ignacio Zuloaga, Leon Bakst, Edith Wharton, Ezra Pound, Marcel Proust, and Frank Lloyd Wright.
2 Russian painter, scene and costume designer (1866-1924), was a member of the Sergei Diaghilev circle and the Ballets Russes. 
3 The daughter of William Stokes Hulton (1852-1921) and Costanza Mazini, Teresa (1890-1972) lived in the Palazzo Donà, Venice. Her father was a painter, whose artist friends included Sickert and Sargent, whilst her mother was half-Italian and brought links with the literary and artistic community of Florence.
4 With  Cecil Pinsent Geoffrey Scott (1884-1929) was the principle architect of Villa I Tatti, where he played a role principally aesthetic and historical. They both arrived in Florence in 1907 and soon they  became very close to the Berenson circle. Geoffrey married Sybil Cutting  in 1918.
5 Gustavo Sforni (1888-1939), Italian painter, is better known as collector. He was a patron for Oscar Ghiglia and Mario Puccini, but also collected paintings by Cezanne and Van Gogh.
6 George Bernard Shaw (1856-1950): the famous Irish playwright and critic.
7 Sidney Ween, 1st Baron Passfield (1895 1947) economist and politician, was one of the early members of the Fabian Society, along with George Bernard Shaw. With his wife, Beatrice Potter, founded the New Statesman magazine in 1913.
8 Thomas James  Cobden-Sanderson (1840-1922) was an English artist and bookbinder associated with the Arts and Crafts movement. 
9  Frederick T.F. Dumont (1869-1939) served as a U.S Consul in Florence between 1914 and 1919.