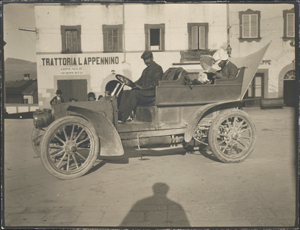 Motoring and sightseeing



Sunday, August 20, Massa
We went up to the end of the road to see the cliffs and the awful peak Aubrey1 climbed. Got to Aulla at 11 and while Lina2 saw her friends, Geoffrey3 and I motored to Bagnone, talking of course chiefly about Marcella Michela.
Came back by Sarzana, where we saw the Cathedral. My cold is getting well at last.
Came over Fosdinovo - Carrara Pass on which we met B.B. and Sybil4 in her car. Stopped at Fosdinovo and saw the churches and chatted with the Priest, whose nurse was full of profughi from the earthquake at Pesaro. One woman still looked awfully scared.
...
-----------------------------------------------------------------------------------------------------