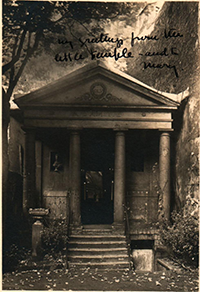 Salons in Paris
Thursday, February 17, in Paris
Reinach1 came and took me to call on Miss Nathalie Barney2. A pre-historic (and stuffy) milieu à la Stenbock3 (poor fellow) with the most hideous paintings and sculptures done by young female artists patronized by her. Incense very strong, mélange of cheap Eastern things, good silver and flowers, white furs, pictures of nude or intense females everywhere.

She has an incorrigible "way-back." American twang, a good-natured, warm manners, is no longer pretty, and not at all tidy. The house was crowded and not dainty, all except the best bedroom (a circular Empire one) where she said Yoï4 made her decision to run away from her husband.

The Tylers5 and Charles Du Bos6 came here to tea.
...
1 Salomon Reinach (1858 –1932) was a French archaeologist. In 1887 he was appointed curator  at the National Museum of Antiquities at Saint-Germain-en-Laye; in 1893 assistant curator, and in 1902 curator of the national museums. In 1903 he became joint editor of the "Revue archéologique. He was a close friend of the Berensons and translated into French some of  BB's articles.


2 (1876 –1972) American playwright, poet and novelist who expatriate lived  in Paris. Her Salon, held at her home, 20 Rue Jacob for more than 60 years, brought together  artists and writers. In her garden there was a tiny Doric temple dedicated to  Friendship (see photo).


3 Count Eric Stanislaus (or Stanislaus Eric) Stenbock (1860 -1895):  Baltic Swedish poet and writer of decadent fantastic fiction. He was a close friend of Mary Berenson, her brother Logan and her sister Alys.