La porta d'Oriente: musical traditions of the Eastern Mediterranean. Constantinople
Myron and Sheila Gilmore Limonaia
Thursday, 9 October 2014 - 6:00 pm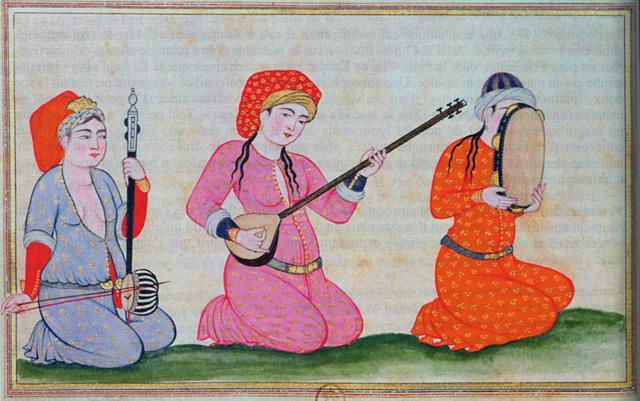 It is probably safe to say that almost no one in the Limonaia on a beautiful evening, Thursday, 9 October 2014, had ever heard music such as that performed by the ensemble Constantinople. The concert was held in celebration of a newly funded joint fellowship between Villa I Tatti and the Research Center of Anatolian Civilization of the Koç University (RCAC), in Istanbul, for advanced research in the interaction between Italy and Byzantine or the Ottoman Empire (ca. 1300 to ca. 1700). In his opening address Lino Pertile announced that the first Fellow would join us in January 2015. Lino thanked  music librarian Kathryn Bosi for organizing the event, welcomed Constantinople, and introduced the concert by reading a short passage from the concert programme: a sixty-plus page booklet filled with images and accounts gathered from materials in the Biblioteca Berenson and the Berenson Archive (the brochure thanks archivist Ilaria della Monica and other members of the staff). The passage Lino chose to read was an account by Freya Stark (a close friend of Bernard Berenson) from The southern gates of Arabia (1936) that described singing in Yemen: "the houses are built with songs….Even the camel has its special song; the beduin croons to it gently as he bobs to and fro: the camel … turns its head contentedly from side to side; and the two together make such a picture of domestic happiness as they jog through the sunlit solitudes of their lives that I have often wondered how many married couples understand each other as intimately as they do."
The programme notes offered accounts by ambassadors, artists, musicians, travellers, scientists and even slaves, which gave glimpses of a musical world far removed from our own. The 16th century naturalist and traveller Pierre Belon offered details about Turkish instruments, while Pietro Della Valle, a Roman aristocrat, writer, musician, composer, librettist and ethnographer, writing from Constantinople on 7 February 1615, described music for a wedding: "...non s cessando mai di sonare e cantare da molti musici barbaric he stavano a questo effetto in luogo e facevano musica hora alla turchesca, hora alla greca, hora alla persiana e di mille altre foggie...". The accounts written by Giovanni Antonio Menavino, years after he was captured by pirates and taken to a seraglio where he was educated (and enslaved), further our understanding of music at the court of Sultan Bayazid II.
Since its foundation in 2001 by two Iranian born musicians, Kiya Tabassian, artistic director, and his brother Ziya Tabassian, Constantinople has provided a forum for cross-fertilization of various musical cultures. The ensemble consists of the brothers, Kiya, who plays setar, and Ziya, who performs an assortment of percussion instruments, with musicians Pierre-Yves Martel (viola da gamba), Charbel Rouhana (ud and voice), Neva Özgen (kemençe), and Didem Basar (kanun). Their biographies describe their multicultural origins and careers. In their own words: "As musician-inventors and musician-travellers, we endlessly replay our utopias, with Babel as backdrop. The territory to explore is infinite: cultures and memories whose lines we like to shift so that they finally converge. Furthermore, we make migration and the mixing of cultures our territory. Is it perhaps our early exile that led us to return to the source, to follow the tracks of our predecessors, to tirelessly search for creative allies? Whatever it is, this awareness of belonging to several space-times is as basic to us as respiration, as inspiration. . . .". Constantinople fosters a unique mode of musical expression with a palette of sounds that has grown out of extensive research into the history and aesthetics of the musical traditions into which it delves, combined with freshness and creativity.
The concert began with a composition by the Dimitrie Cantemir (1673-1723), who, according to the programme, was "twice Prince of Moldavia, scholar, author, philosopher, historian, polyglot, ethnographer, geographer, musician and composer for the Ottomoan court." Was there anything Cantemir couldn't do? His composition Zenguleh pishrow  --devr-é  Kebir featured the sounds of the ud, the kemençe, and the kanun with its 78 strings. A drone supported simple repetitive melodies, with the sounds proceeding in a lilting, slow stately tempo, and short phrases woven together. One might imagine being transported by caravan to a court somewhere in ancient Persia.
Following this first work, Kiya Tabassian spoke to the public about the construction of the music, based on melodic formulae called maqam. To this day these memorized patterns provide the theoretical basis for all kinds of Middle Eastern music. He also referred to the sophisticated rhythms most likely related to Persian lyrical poetry associated with the court. By listening to and studying traditional music, passed on from one generation to the next, largely unchanged, one can find vestiges of that Persian courtly tradition.
Apart from the two compositions written by Cantemir in the Baroque era, the remainder of the programme focused on improvisations composed by the individual performers. The voices and instruments joined at various times and in assorted combinations. Melodies were ornamented with trills, tremolos, glissandi and other filigree, as a means of keeping the sound from decaying on instruments generally not intended for performances in large spaces. The viola da gamba, not a traditional Eastern instrument, supplied sustaining power. In their solos, each performer demonstrated the virtuoso capabilities of their instruments, from the kanun with its many strings to the kemençe thought at first to be a flute or a voice. The compositions were filled with complex rhythms and constantly changing meters, verging on the sorts of syncopations we hear in Western jazz. In the duo "Cheshmeh," Chabel Rouhana sang in Arabic accompanying himself on the oud while Kiya Tabassaian then sang in Farsi playing the setar. In the absence of text, it was still possible to infer that they were singing a love song.  Later in Rouhana's Om al Maradem even more emotion and pain was palpable. But for these and a few other plaintive sounds, the musicians projected a sense of energy and joy in their performance. Indeed, some in the audience up close enough were able to catch a glimpse of their faces as they smiled knowingly at one another.
Kiya Tabassian and the others spoke briefly about the instruments and explained the need to tune in between pieces because of the strings' sensitivities to humidity. Even the tonbak - one of the percussion instruments - is capable of producing pitches.
 An overwhelmingly positive response to the evening's performance brought the players back together for an encore, a reprise of a section of Didem Basar's Kervan.
Susan Weiss
Robert Lehman Visiting Professor 2014/2015