Ottobre a I Tatti 2014 was the third event of its kind; a chance to welcome some of our closest and most faithful supporters to Florence and I Tatti during the beautiful Tuscan fall. For these friends – many of whom live overseas – Ottobre a I Tatti is an opportunity to meet current appointees and learn about their research, discover how I Tatti has changed and developed since they were last here, and take part in visits to some of Tuscany's hidden artistic gems.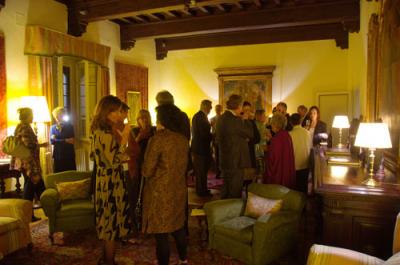 The 2014 event began with a visit to the restoration laboratory of the Opificio delle Pietre Dure, where Opificio Director and I Tatti amica and collaborator Cecilia Frosinone met our group and introduced some of the major works of art currently undergoing conservation work, including Raphael's La Muta. Cecilia and our guests discussed some of the factors that contribute to the deterioration of works of art, and examined the merits of conservation when it comes to safeguarding artistic treasures against further injury or decay.  Our day concluded with a concert of Early Music in the Limonaia, followed by a convivial dinner in the Villa. 
At I Tatti the following day, our Fellows were keen to offer our visitors an overview of their research, with several on hand to provide short presentations of their projects and talk about how their time in Florence will allow them to further their studies. Director Lino Pertile introduced our speakers, whose presentations covered topics as diverse as the rivalrous and sometimes cutthroat world of the Renaissance printmaking industry; issues of cosmetic surgery and masculinity in sixteenth-century Italy, and a comparative study of the urban layout of cities in Tuscany with the Jiansu province in China. After lunch, conversation between our Fellows and guests continued on I Tatti's azalea terrace, before we left I Tatti for the centro storico, where Jonathan Nelson led a tour of the Pure, Simple, and Natural exhibition at the Uffizi. Here, we admired the clarity and calm greatness of artists such as Andreo del Sarto, Santi di Tito, and Bronzino. We spent the evening at Casa Morrill, with its beautiful views of the Arno river and the cathedral. The I Tatti Fellows joined us for dinner, the mild fall weather allowing us to dine al fresco on the terrace and watch as the sun set over the city.  
On the last day of Ottobre a I Tatti 2014 we headed to the Tuscan city of Siena to trace the footsteps of Domenico Beccafumi, the great Sienese artist of the late Renaissance period. Former Fellow Gabriele Fattorini was our guide in the cathedral with its wonderful marble mosaic floors, which due to their delicate nature remain covered for most of the year. After lunch in a local trattoria we made our way to the magnificent Palazzo Civico, pausing to pay particular attention to Beccafumi's grand, public frescoes on good and bad government. We concluded our day in Siena with a comparative visit to a private palace featuring frescoes by the same artist of an altogether more private and intimate nature. 
Ottobre a I Tatti 2014 was a wonderful event, and above all a chance to welcome some of the most cherished members of the wider I Tatti community back to Florence!