Date:
Thursday, November 3, 2016, 6:00pm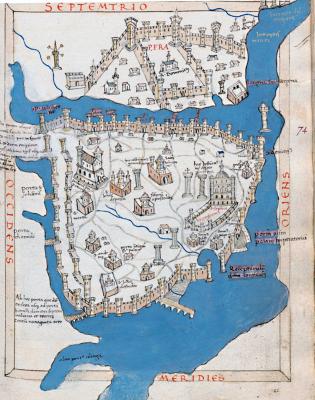 During this seminar Nevra Necipoğlu will aim to reconstruct the social topography and urban development of Constantinople during the 14th and 15th centuries, based on evidence from Byzantine, Western, and Ottoman sources. Data pertaining to houses, shops, workshops, taverns, residential neighborhoods, commercial districts, and other urban spaces, as well as gardens, vineyards, fields, and mills which became increasingly visible on the urban landscape of late Byzantine Constantinople will be analyzed and contextualized. This presentation is part of her ongoing research on late Byzantine Constantinople which intends to shed light on what the city looked like and how it functioned as an urban center during the last two centuries preceding its fall to the Ottomans.
Nevra Necipoğlu is Professor of History at Boğaziçi University in Istanbul, founding director of the University's newly established Byzantine Studies Research Center, and general secretary of the Turkish National Committee for Byzantine Studies. Her work focuses on late Byzantine social and economic history, Byzantine-Turkish and Byzantine-Italian relations, and the urban history of Constantinople and Thessaloniki during the 13th‑15th centuries. Her books include Byzantium between the Ottomans and the Latins: Politics and Society in the Late Empire (2009), as well as several edited and co-edited volumes, most recently Trade in Byzantium: Papers from the Third International Sevgi Gönül Byzantine Studies Symposium (with Paul Magdalino, 2016). She is currently a Robert Lehman Visiting Professor at Villa I Tatti.