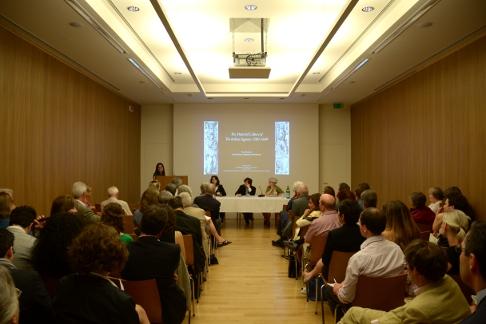 Most years, I Tatti sponsors an international conference at the Villa, typically lasting two days, and not infrequently in collaboration with other research centers. All address the Italian Renaissance, and most are organized by current or former members of the I Tatti community. Ideally, these conferences allow junior and senior scholars to exchange views, and not merely to present recent research; to this end, I Tatti favors a format that facilitates extensive discussion during sessions and over breaks. The Center also organizes many encounters on a smaller scale: seminars and workshops for a day or afternoon during which current Fellows and visiting specialists can explore narrowly-defined topics. Over the last half century, I Tatti has hosted dozens of conferences and seminars, with papers given by most of the leading Renaissance scholars in the world. Click here for a complete list of the proceedings of conferences and seminars held at or co-organized by I Tatti.
Lectures at I Tatti include presentations given by Visiting Professors at the Center and invited scholars. A prestigious series begun in 2006, the Bernard Berenson Lectures consists of three lectures on any aspect of the Italian Renaissance by a distinguished scholar, then adapted for publication in book form. The public also has an opportunity to hear prominent speakers at award ceremonies, such as the conferment of the I Tatti Mongan Prize; this is given to a senior scholar who carries into a new generation the qualities of imaginative scholarship, personal generosity, and devotion to the institutions of art history that were exemplified in their own generation by Agnes and Elizabeth Mongan.
For a list of past conferences & lectures, click here. For events before October 2014, please check our web archive.