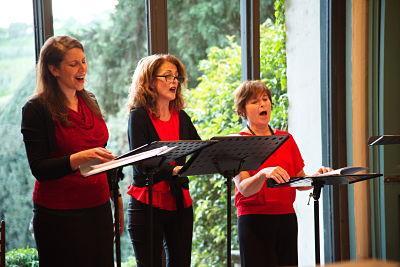 Since the Harvard Center for Renaissance Studies was established in 1961, musical programs have included public concerts, intimate recitals for the community, performances by musicians in residence and, more recently, an annual keyboard masterclass for talented young musicians.
Music has long played a part in the cultural life of of the Villa. Otto Klemperer, Yehudi Menuhin, Igor Markevitch, Mario Castelnuovo-Tedesco, Gaspar Cassadò, Louis Kentner, Roger Sessions, and Kathleen Ferrier were amongst Berenson's distinguished guests, and their letters are preserved with the Bernard and Mary Berenson Papers. The Morrill Music Library is generally considered the finest reference library for medieval, Renaissance and early Baroque music in Italy. 
Musicologists are a vital part of the academic community each year and bring with them an in-depth understanding of Renaissance music and its forms. During academic year 2016/2017 year we are joined by Fellows Cory Gavito (Oklahoma City University), working on Guitar Song in Italy between 1580-1700, and Renata Pieragostini (Indiana University) whose project examines 'Ideas of Music in Coluccio Salutati's Florence'; Graduate Fellow Daniel Walden, conducting research for his dissertation on 'The Origins of Tuning and Temperament; and Visiting Professors Kate Van Orden (Harvard University), working on Musica Transalpina: French Music, Musicians, and Identity in Cinquecento Italy, and Bonnie Gordon, who's project is entitled Voice Machines: The Castrato, The Cat Piano and Other Strange Sounds
The Villa is the proud possessor of an historic Knabe grand piano dated ca.1885, which belonged to Hans von Bulow and which Berenson bought from his heirs. Documented in photographs of Yehudi Menuhin playing in the Berenson studiolo accompanied by his son Jeremy, it is still enjoyed by visiting musicians today. I Tatti also owns a fine harpsichord by Ugo Casiglia, based on the Giovanni Battista Giusti of 1693 in the Smithsonian Institute and generously commissioned and donated by Frederick Hammond (VIT 1972), and a Steinway piano which previously belonged to F.Gordon & Elizabeth Morrill. The first formal concert at Villa I Tatti was given by Ralph Kirkpatrick, who played his clavichord in the library in 1933.
Recent concerts have featured music and performances by Jordi Savall, Gavin Bryars, Singer Pur, and Ensemble Vivante.
Concert programs 2016/2017