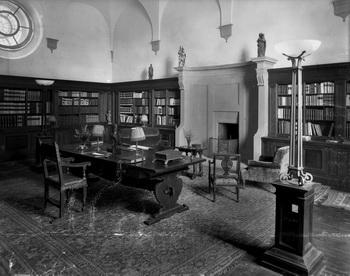 The Harvard Center's research library has its origins in the impressive private collection assembled by Bernard and Mary Berenson, and in the three stately rooms they had built to house it between 1909 and 1915. When the university inherited it in 1959, the Berensons' library consisted of more than 50,000 volumes and perhaps 170,000 photographs. Not only was the collection contained in the library proper, which by the time of Berenson's death had grown to eleven small and mid-sized rooms, but books also lined the corridors and graced several private rooms of the villa. Late in his life Berenson aptly described I Tatti as "a library with rooms attached for living."
The library's beginnings as the personal collection of scholars and avid book-lovers, and physically as part of a private residence, have ever since conditioned its growth and character. In the over fifty years of Harvard's administration of I Tatti the collection overall has more than tripled in size. With new construction on the bucolic hillsides of Fiesole nearly impossible due to stringent building codes, the library has instead steadily expanded into several former farm and service buildings nearby that have been remodeled for this purpose.
The converted buildings not only accommodate the growing collection but have also added new and more comfortable areas for readers and, in more recent years, spaces for computer terminals and increased public services as well. Though it retains in its historical parts the old-world elegance of a gentleman's library, the Berenson Library has gradually been transformed into a modern and functional research institution.