Date:
Thursday, June 14, 2018 (All day)
to
Friday, June 15, 2018 (All day)
Location:
Gould Hall, Villa I Tatti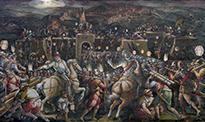 Between the 16th and the 19th century, a new awareness and new uses of the nighttime slowly but unmistakably spread through different parts of the world, whereby new regimes of temporality redefined the spheres of work and leisure, of activity and repose. Social life, as well as labor and entertainment, ever more frequently spilled over into the night hours, inviting the use of pyschotropic substances such as coffee and tea and a sense of the manipulability of the architecture of the nocturnal and the diurnal.
The order of day and night, easily taken for granted as one of the the most natural of phenomena, is only recently attracting attention in terms of its historicity, perhaps because of our awareness of living 24/7, of traveling faster than the means of adaptation of our biological clock, and of various strains on our circadian rhythms. This conference will bring together some of this pioneering research on circadian rythms, the history of sleep, of representations of nocturnality in literature and the arts, and social uses of the darker hours in order to consider and discuss the transformations of the way the nighttime was experienced and imagined in different parts of the early modern world.
program to follow