The Morrill Music Library acknowledges with deep gratitude the gift of a unique compilation of sonnets in honour of Girolamo Frescobaldi, one of the greatest keyboard composers of the first half of the 17th century.
This gift, from the personal library of Professor Frederick Hammond, former Fellow (VIT '72) - author of a definitive monograph on the life and works of Frescobaldi published by Harvard University Press in 1983, and distinguished scholar of Barberini musical patronage in Baroque Rome - was generously donated to celebrate Kathryn Bosi's forty years of service as F. Gordon and Elizabeth Morrill Music Librarian at the Biblioteca Berenson.
 The Sonetti di diversi eccellentiss[imi] autori in lode del Sig. Girolamo Frescobaldi: organista del Sereniss[imo] Gran Duca di Toscana was published by Frescobaldi's pupil Pietro Paolo Sabatini, and dedicated to Francesco Nicolini, ambassador for the Grand Duke of Tuscany in Rome, in 1628. The booklet contains five sonnets in Frescobaldi's honour, which mention the cities of Ferrara (where he was born and studied with Luzzaschi, before moving to Rome in 1608), and Florence, where he was appointed organist to Ferdinando II, Grand Duke of Tuscany in the same year as the publication of this anthology (clearly meant to celebrate his appointment). No other copy is known to exist, and this one may in fact be a printer's proof, since some lacunae in the text have been completed in ink by a contemporary hand.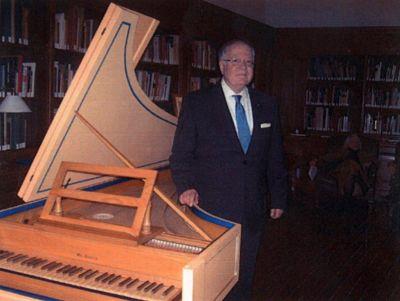 Professor Hammond, ever-generous friend to the Villa, presented us in 2005 with a splendid harpsichord built by Ugo Casiglia, based on the Giovanni Battista Giusti of 1693 held in the Smithsonian Institute, which enabled us to initiate a yearly Masterclass on early keyboard instruments for students from the Conservatory of Moscow in 2006. The Masterclass continues, and we are proud to announce that many of its participants have received international awards.
Professor Hammond after his presentation concert for the harpsichord