Date:
Thursday, March 23, 2017, 6:00pm
Body Politics in the Italian and Spanish Renaissance
Victor I. Stoichita, University of Fribourg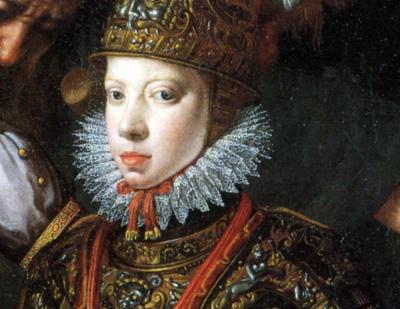 Lecture 3: Bodyguards.
The final lecture considers armor during the High Renaissance as a double of the body, a kind of super-body, a simulacrum that is inhabited. 

 
Armor is discussed as an essential component of the organism of power that reinforces the actual body even as it hides it, constructing the princely person and integrating him into a hierarchical space and hence into a precarious equilibrium between domination and submission. This lecture will take into consideration Italian and Spanish Late Renaissance armor as an optical device and "gaze-trap" conceived as an instrument of power.
This lecture will be held in Italian. No registration required. 

In the twentieth Canto of Tasso's Gerusalemme Liberata the Saracen witch Armida recognizes her defeat: neither her armed hand, nor her malefic gaze can penetrate Rinaldo's magic armour:
 Colpo d'occhio o di man non pote in lui
di tai tempre è il  rigor che lo assicura.
<No shot that flies from eye or hand I see
hurts him, such rigour doth his person guard> ( Transl. Edward Fairfax)
The hero's body is protected by an indestructible envelope, made of steel but also of a subtler and rather impalpable stuff. An armour, in Tasso's time, one understands, did not only fulfil a physical  purpose, it was also (and primarily) a symbolic device.

Victor I. Stoichita was educated in Bucharest, Rome, Munich and Paris. He has taught at many European and American Universities including the universities of Madrid, Jerusalem, Harvard, Göttingen, Frankfurt, Santiago de Chile, the Ecole des Hautes Etudes en Sciences Sociales (EHESS) and at the Collège de France in Paris.  He was a fellow at the Institute of Advances Study in Princeton, at the Getty Center for Humanities in Los Angeles, at the Wissenschaftskolleg in Berlin  and at the Center for Advanced Study in Visual Arts in Washington D.C. Since 1991 he has taught Art History at the University of Fribourg (Switzerland). He is a Foreign Member of the Accademia dei Lincei (Italy) and Associated Member of the Académie Royale de Belgique.  In 2014 he held the Chaire du Louvre, with the topic L'Image de l'Autre. Noirs, Juifs, Musulmans et Gitans dans l'art occidental des Tempes modernes (published by Hazan, Paris in 2014).  He is author of many art historical books translated into a dozen languages. Among his most recent publications are: The Self-Aware Image. An Insight into Early Modern Metapainting (new improved, and updated edition), Harvey Miller Publishers, Turnhout, 2015; L'Effet Sherlock Holmes. Variations du regard de Manet à Hitchcock, Hazan, Paris, 2015 and Über einige telepatische Dispositive / On some Telepatic Dispositifs  ("Panofsky Lecture"  2016 at the Zentralinstitut  für  Kunstgeschichte Munich), Deutscher Kunstverlag, Munich / Berlin, 2016.  His memory book Oublier Bucarest, (Actes Sud, Arles, 2014) was awarded by the Académie Française. In 2014 he was also awarded the Chevalier des Arts et des Lettres of the French Republic.